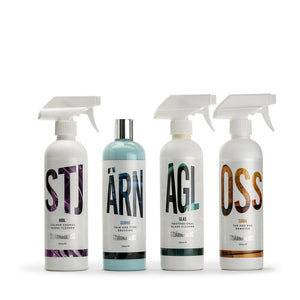 Four specialist products to complement the 'Core Four' kit... remove tar and bugs at the wash stage and take care of your wheels, tyres, trim and glass.
For wheels, Hjul 500ml, our pH-neutral colour change wheel cleaner. With a little solvent to soften tar spots, plus surfactants for additional cleaning and dwell, it's a supremely effective wheel cleaner. And you can use it as a fallout remover on your bodywork, too.
Tyre and external plastic trim is then taken care of by Gummi 500ml. This satin dressing buffs and dries after application to prevent sling or streaking in the rain. Try a little 50/50 if you want to see how good the finish is.
For windscreen, side and rear glass - inside and outside the car - you have... Glas 500ml. A professional grade product with strong solvents, it's a pleasure to use compared to lesser glass cleaning sprays.
Finally, you have Tjära tar and bug remover. Use it as part of your wash regime to remove stubborn contaminants. As the name suggests, it makes short work of tar spots and dissolves insect residues.
Contains Hjul 500ml, Gummi 500ml, Glas 500ml, Tjära 500ml. Individual combined cost £40. Kit price £35. Saving £5.