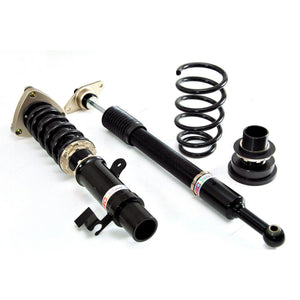 In our opinion, BC Racing coilovers are the best value on the market - great handling, high quality and an affordable pricetag. Also, their spare parts department is second to none - if you ever break a spring or damage the topmount bearing - you don't need to throw the coilovers away like other brands. We fitted these to our own C30 around 2 years ago and they have never missed a beat!
We offer two variants of the BC Racing Coilovers.
BR/RA - Normal style with Front Pillowball Topmount. Perfect for those who want to fit & enjoy. 
RM/MA - Inverted Front Shock with Camber Adjustable Pillowball Topmount - Upgrade option for those who want to dial in the suspension for track work.
We also offer Spring rates for Race applications where harder suspension is required for high speed cornering.
Fits:
Volvo S40 04+
V50 FWD 03+

Please note that for exclusivity reasons we are unable to supply BC Racing Products to the following countries: France, The Netherlands, Finland, Greece, USA, Canada, China, Singapore, Taiwan, Japan, Malaysia, South Africa, Australia, New Zealand