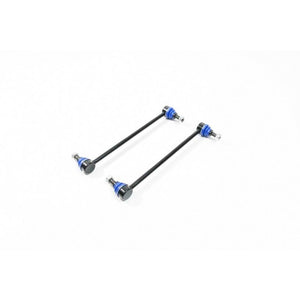 Hardrace Reinforced, Shortened droplinks are the best way to correct front Anti-Roll Bar preload when lowering your car.

You might not realise it, but when you lower your car, the suspension shape changes. One of these changes means that the front anti-roll bar rests at a different angle than it should. This results in less travel and a different pre-load, ultimately decreasing effectiveness.

This can be solved by using shorter, stronger droplinks. These are 30mm shorter which accounts for up to 30mm drop (standard lowering spring drop such as our 30mm Lowering springs).

For extra drop, upgrade to the adjustable links which allow for 40mm drop (select "Adjustable" below).
Fits:
Volvo C30 All models
Volvo C70 All models
Volvo S40 All models
Volvo V40 All models
Volvo V50 All models
Ford Focus ST Mk2
Ford Focus ST Mk3
Ford Focus RS Mk2
Mazda 3 MPS
Recommended for lowered cars